PLANTS AND SEEDS FOR SALE
We send everywhere in the world !!
We produce and sell high quality of seeds and plants of Adenium obesum and Adenium multiflorum
Why is it so difficult to find fresh viable seeds of Adenium?


See Here

What is a "true" Adenium?

See Here

Plants and Seeds For sale HERE
Why is it so difficult to find fresh viable seeds of Adenium?
We are producers of seeds, not retailers, so we can insure the freshest seeds that can be found on the web !
Seeds of Adenium are not viable for a long time in normal conditions, almost two months for a good ratio of germination (70% or more) and the problem for a person who want to buy Adenium seeds is to find FRESH SEEDS...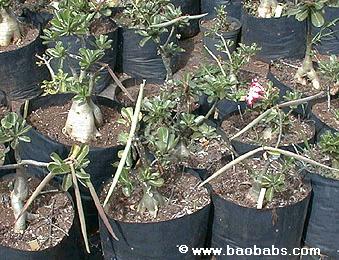 Seed pods of Adenium obesum
Because sellers of seeds of Adenium are ALMOST EVERY TIME RETAILERS so the problem is the too long time between harvest of seeds in the country of origin, different transits to the retailer, stocking period, and then travel to reach final customer.
At the end of the process, the ratio of viable seeds is very poor and setbacks are often encountered.
So buying cheap seeds of Adenium is in fact frequently very expensive...
Seeds are sent as soon as possible, depending of availability, in order of demands.
15cm/6" Seedling
Our Adeniums are born from seeds of the best quality which are produced on the place after a severe selection of parent clones.
Plants are cultivated under ideal natural conditions, without excess of chimical fertilizer, excessive watering or pruning. More, periods of dormance as in habitat are respected.
Plants and Seeds For sale HERE
---
Le Jardin Naturel
REUNION
Copyright © Le Jardin Naturel